Hi all! Ketti Prout here, the owner of Austin Kid's Retreat. As the owner of a childcare center (and a 20 year veteran of the childcare industry) one of the most common questions I get asked around this time of year is: what should I get my child for the holidays? 
I'm here to not only answer this frequently asked question but to also help a busy parent out with some links to the toys – and Black Friday deals to look for on my favorite toys!
Not only are these great toy savings, but these are also toys that are STEAM educational toys! I strongly believe in STEAM-based learning for child development. So much so it is what drove me to create my own STEAM childcare center focused on early childcare education by my home in Steiner Ranch, Austin Kid's Retreat. 
What is STEAM?
It's a way of presenting projects and activity-based learning that incorporates the following things:
S – science
T – technology
E – engineering
A – arts
M – math
In this principle of teaching, the environment we've designed is one where all children can be engaged and contribute to the lesson. We like to incorporate many ages within our activities, scaling the activities based on the child's capabilities and keeping our overall child – to – teacher ratio low so that our smaller more intimate learning environment benefits the development of your child.
With that being said the individual play toys and the group play toys have been chosen for incorporating STEAM, being open-ended in the kinds of play, and scalable depending on age!
Check out Our Black Friday Educational Toy Recommendations:

STE
A
M: Art
Camera: Engage your little photographer and have them view life through the lens!
Create a photo challenge for them to push their creativity with challenges varying based on child's age. Depending on your child's age, you can even start incorporating some photography theories into their photo challenges (i.e., "take a photo of leading lines", "use the rule of thirds to capture a landscape photo", "take a portrait, etc.)
While I love digital camera's for their convenience and being able to control more camera settings, the FujiFilm Instax Mini Camera is a fun choice for kids because: limited shots encourages them to take their time and really think about the getting the right photo, photo translates to art immediately as it prints (today's generation might be a little jaded by the screen aspect of the camera), then that photo immediately can be featured as wall or fridge art! The only con being that it can become a pricey habit if you're buying film often, however making this a weekly or monthly challenge can help curb costs! Buying the extra's like the carrying case and film are great stocking stuffer options to support this creative STEAM gift.
Find this Deal at Walmart, Target, Amazon, and more for the same price!
Normally: $59
Black Friday Price: $49
https://bestblackfriday.com/ads/walmart-toy-book/page-38#ad_view
Mess-Free Water Art with Different Shapes 
We love arts and crafts! Craft based art activities are a great way of incorporating engineering concepts as we build and create our masterpieces. However today I'm sharing another "toy" I just love that is a little different from traditional crayons and markers.
Featuring: Contained painting with water!
Why I love this activity? It can be self-moderated, mostly mess-free (any messes are water) and is an activity that is scalable for all ages. Take this design for example. This Amazon Black Friday deal features 3 different designs from more boy-girl designs to a more neutral design. It has different types of stamps and pens to encourage creative ways of making their masterpieces! A young child is sure to be delighted opening this gift on Christmas morning even if they don't yet know what it is for.
Check out the Amazon Listing Here for this Water Drawing Mat 
Contrary to what the above picture might have you believing, this activity is not limited to just young children. Older kids might enjoy testing out their artistic chops doing more complex designs on the Buddha Board with various brush types. There are many Buddha boards to choose from though I'm not seeing any Black Friday deals.
Bonus: Art is a noted great therapeutic tool. It allows time for physical creativity and self-reflection and could be an ideal gift for the hormonal pre-teen. 
Black Friday

STEM

Toys: Science, Technology, Engineering, and Math
Open-Ended Blocks
Original Price: $40 
Black Friday Deal: $26
I love all blocks because they encourage so much creativity and imagination as children build and construct their own mini worlds. This block set is unique in that is has some design work already put on the blocks to help the child view it as an imaginative city which can be useful for younger kids. Another fun feature is that it comes with a play mat to keep the play on one set "work" area (a Montessori principle).
See this deal on Amazon
Building Set with Real Tools
Regular Price (at Walmart): $50
Black Friday/Costco Deal: $20
Amazon has some real tool sets too, but I like this Costco set because it comes with an activity in the set. While play tools are exciting to get the imagination going, really using tools can teach a child their capabilities and start some creative thought processes in what else they can make with their working tools!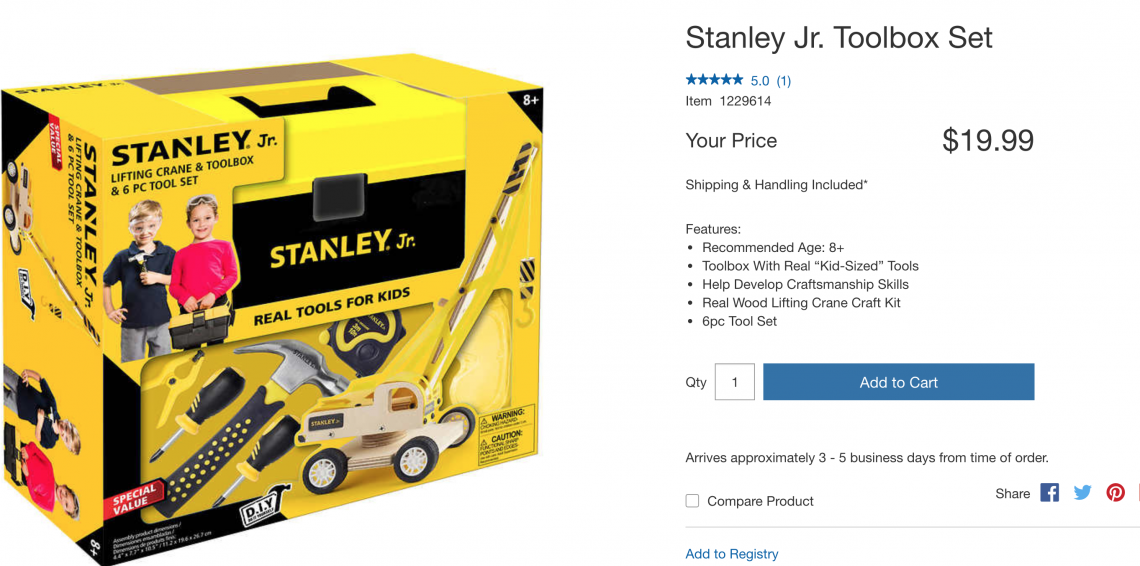 See this listing on Costco's Website: https://www.costco.com/stanley-jr.-toolbox-set.product.100493007.html
VEX Robotics Launchers Construction Kit: 
Original Price: $40
Black Friday Price: $32.99 
Here's a kit that incorporates physics, engineering, and technology! Great the Nerf-gun enthusiast in your life. Why buy a new NERF gun when you can just create your own launch kit?!
See the full Black Friday toy listing here: https://www.costco.com/vex-robotics-launchers-stem-construction-kit-bundle%2c-3-pack.product.100497583.html
Take Apart Engineering Toddler Toy 
Originally: $60
Black Friday Pricing: $24.42
This kit is so unique because it has stages depending on your child's age on how they tackle this toy! It comes with; step-by-step instructions for a child to follow, a storage bin, all the pieces necessary to construct the cars and dinosaurs, realistic dinosaurs with moveable joints, facts about dinosaurs, and more. This is a great way to work a STEAM lesson into a bigger lesson about dinosaurs!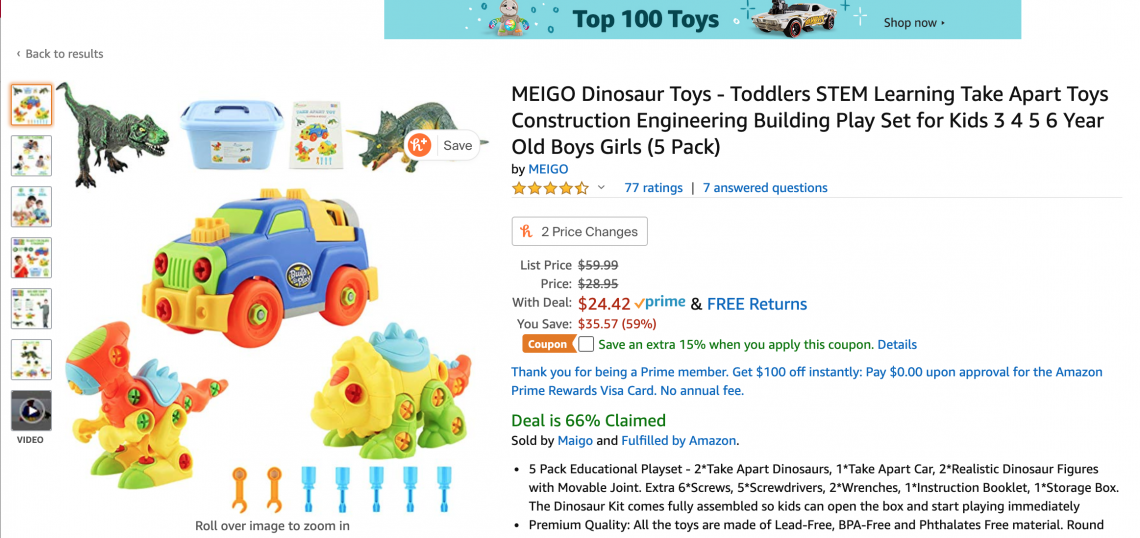 Check out this Amazon deal for yourself! 
Preschool Stacking Toy 
Originally $30
Black Friday Deal: $11
This is a great toy for many ages. From a younger perspective, we are working on color sorting and gross motor skills lining up the shapes and the holes! Count the amount of pieces you have all together and individually to introduce mathematical concepts. For older kids this is a great opportunity to introduce the shape names. Challenge your child to find these shapes throughout your home or day-to-day routine. A great and inexpensive educational Christmas toy option!
Don't miss out on this Amazon deal! 
Codeable Robot 
Original Price: $80
Black Friday Price: $60
Sphero is a great tech brand that creates coding focused games. This set is a great starter set of theirs and comes with 15 STEM-inspired Activity Cards to build mazes, design obstacle courses, construct towers, play croquet, and more to get you started. Then create your own games – the possibilities are endless! Sphero has many products to check out (here's their Black Friday List which ranges from products that are $40 all the way to $ 2500 )
Check out this kit on Sphero's website: https://www.sphero.com/mini-kit
Watch this game in action! https://youtu.be/DxFNCRYbMe4
Build and THEN Code This Robot
Originally: $99
Black Friday Price: $65
This one is for our older builders. While the design aspect of building one of the 2 form options is simpler, it's the coding magic that made this toy a winner of the 2017 National Parenting Product Awards
OSMO Full Line of Products (all 30% Off)
Original Price: Set Price
Black Friday Price: -30%
Note you do need an iPad OR a Kindle Fire for this product to work. This particular link is for the iPad listing. What is Osmo? Osmo is an activity set that incorporates tablets with hands-on learning tools. I suggest starting off with the Genius Kit because it comes with the necessary base, red mirror attachment, and basic starter games. There are plenty of add-on games that teach: coding, physics, art, math, etc. All via FUN games. The math game that teaches fractions is a pizza game for example! The coding game is almost reminiscent of playing a video game – only quite educational as well as fun!
See ALL the OSMO gaming options that are marked down for Black Friday here
Floor Size Jenga
Originally: $70
Black Friday Price: $50.
Why I love it? I love this GIANT Jenga set because it is a way of building and deconstructing in a way that incorporates others in the play! This item would make a stellar family gift and can even be considered an "outdoor" game. The large scale aspect of the game can make this 'toy' seem grander and more exciting to a young child.
Don't miss out on the Giant Jenga kit deal! 
Build Your Own Construction Vehicle (Older Kids STEAM) 
Originally $35
Black Friday Price: $27
As you might be able to tell from this photo, this toy is great because the activities and level of difficulty/skills introduced can vary based on the child's age. These are my preferred kinds of toys where we can scale the seemingly simple toy to the age of a child. It's also a great toy for older siblings to work on collaborating together to build with the older age guiding and teaching a younger age. Leading with kindness is just as important of a skill as the STEAM skills we have already discussed.
Check out this cool engineering robot on Amazon!
Legos 
Always a winning toy for BOYS and GIRLS! Newer LEGO toys even incorporate tablet activities that include coding. But LEGO's are a great STEAM toy because they require step-by-step instructions to do right (basis of coding building blocks), stimulate creativity as child engineers and builds structure, and are visually appealing finished designs that can easily be declared works of art!
Check out Walmarts deals for LEGO Black Friday Deals: 
https://bestblackfriday.com/ads/walmart-toy-book/page-24#ad_view
https://bestblackfriday.com/ads/walmart-toy-book/page-25#ad_view
.
.
.
Upcoming Deals (no prices released yet) 
Toddler Puzzle
Original Price: $27.97
Black Friday Price: ???
What a fun multi-faceted toy full of shapes, skill development such as gross motor skills, shape or color recognition and more! The box itself is a puzzle and each side has different challenges.
Keep an eye on this Amazon deal
Tangram Puzzle
Original Price: $15
Black Friday Price: $10….possibly lower!
Some of the best toys are those that come with their own box to clean up and can travel with you! I love to keep this toy in the car as something we bring into the restaurant. Not only can we match up designs to the cards and be creative making our own, we can make up stories to go with our designs! Take it a step further and bring some paper and crayons with – draw a scene and fit your tangram into the drawing!
Grab this Tangram before it's gone
.
.
.
.
Bonus Toy Suggestions:
These toys are not on Black Friday special but they are STEAM toys we love at Austin Kids Retreat! 
All Age Toys – These are toys that come with a Curriculum Books that teaches STEAM in a fun way and stagger teachings based on age! They are open-ended toys that I find at https://kodokids.com/
Wood ramp system

Wind tunnel is amazing!!

Light table /light lab

Magnet wall system

Tegu Blocks

M

agnatiles (Picasso Tiles are my preferred 'knock-off' of choice) 
Because some of the above toys can be pricey or perhaps too big for your home, come check them out at Austin Kids Retreat! We carry all the above toys and would love to show you how to play with these toys based on your child's age!
Looking to get more than Toys this Black Friday?
Avoid any extra stresses of shopping on Black Friday and drop your child off at Austin Kid's Retreat!
We'll be closed on Thanksgiving but open and resume normal drop-in childcare hours on Black Friday, 11/29. We will open at 7 am and stay open until Midnight – just as we do every Friday night! No time to pack a lunch? Austin Kids Retreat has options to buy breakfast, lunch, and or dinner for your child. We will have a fun Thanksgiving-themed day playing inside with toy activities listed above, arts and crafts, outdoor play, and even a place for naps for our younger AKR fdrop-in childcare visitors!