Hint: Scroll to the bottom for an easy quick view of the list of questions!
.
.
Is the daycare licensed?
One of the benefits of using a licensed childcare center versus an in-home daycare is the greater accountability and safety standards that licensed centers face. 
Here's a fantastic tool and easy way to check the complaints and safety history of any licensed childcare center in Texas:
https://www.dfps.state.tx.us/Child_Care/Search_Texas_Child_Care/
.
What are the preschool or daycare's working hours?
Check what are the daycare's working hours. Do they suit your need? If not, can they accommodate the timings that you are looking for?
Visit Austin Kids Retreat on Facebook to find updates on hours, holidays, and inclement weather report updates. 
Our regular hours are Monday – Thursday from 7am-10pm, Friday 7am-12 midnight, Saturday 9am – 12 midnight , and Sundays we are closed with the exception being private parties! 
.
Cost
The cost can vary based on the age of your child and whether you've enrolled in a preschool style program (or mother's day out) in which there is a set curriculum and consistency in the students and rhythm of each day as the child generally starts and stops at the same time each day.
One of the benefits our parents have found with Austin Kids Retreat is that, while we offer a great preschool program, if parents are running late or need to drop off earlier, it is simple enough to roll the kids over into the drop-in program. This convenience sets us apart from many other schools that have hours that clash with traffic or a working parent's hectic schedule.
Being open until 10 pm or midnight depending on the day of the week, we have found we are able to best accommodate the average working parent's hectic schedule! So say yes to that work dinner or set-up a weekly date night – we have childcare covered! 
Here is a link to our daycare costs 
https://www.austinkidsretreat.com/drop-ins/
Please note we do offer a way to save more money! By buying hours in packaged amounts, we are able to offer discounts up to 20% off.
We also offer discounted rates for siblings (excluding infants) to save parents even more.
Please note our preschool program has a monthly tuition rate at a different hourly rate than the drop-in. Please send an inquiry on our website, Facebook, or give us a call to learn more about our preschool program .
.
Holidays + Inclement Weather Policies 
Will the childcare center close for Spring Break, Winter Break, and other minor school holidays? Will they close for only major holidays or are they open year round? Do they follow local school delayed starts and other changes due to inclement weather?
Unlike many preschool facilities which are closed for several weeks in the winter and inconveniently closed when the school is closed (but of course you still have to work), because AKR is also a drop-in childcare facility, you can expect us to be open year-round with the exception of major holidays! 
Many schools in the Austin area do a delayed start due to inclement weather. But as experienced working parents, we know that oftentimes your job does not care about inclement weather. This is why when schools delay start, we are open! Not only that but for our local Steiner Ranch schools, we offer a delayed drop-off. Meaning you can drop your kids off and get where you need to go knowing they will be cared for at our childcare center and then safely delivered to school to continue on their day – without interrupting yours! 
.
Other Programs Offered (After-School Pick-Up or Birthday Parties)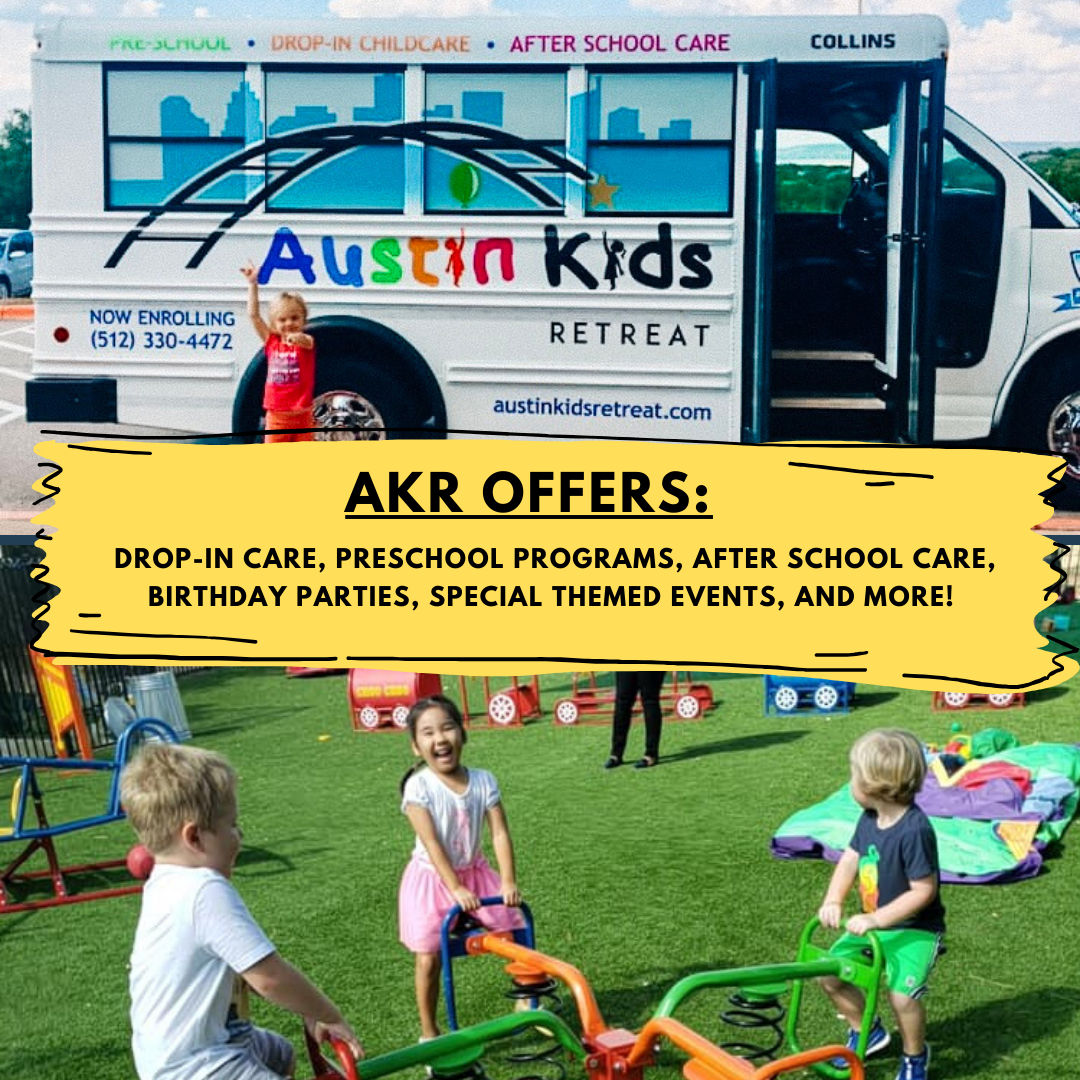 Does the school offer special programs such as after school programs? Do they require the student to be dropped off? Availability for hosting a private event? 
After School: Sitting off of 620 in the four-points area, we have been able to work closely with the schools in the Steiner Ranch community and offer our Austin Kids Retreat after school pick-up services. With this service we pick-up the students from one of the 3 elementary schools in the Steiner Ranch neighborhood or the middle school. Please inquire directly for availability and rates! 
Birthday Parties: On Sundays, Austin Kids Retreat is open for private birthday parties! Slots are 10 am and 2pm and rates are available upon request
.
Sick-Child Policy?
How long do children need to stay home after a fever or diarrhea? If your child gets sick while at daycare, how long do you have to pick them up?
A standard 24 hours of being fever-free, without Tylenol or Motrin artificially reducing the fever, is requested in order to help keep our facilities as clean and healthy as possible! Additionally, we take cleaning and sanitizing our toys and center seriously in order to best fight the spread fo germs and sickness! 
.
Release policy? 
Do you need to provide a list of approved names and phone numbers? Will they check ID?
At Austin Kids Retreat, anyone who does regular pick-up or check-up needs to register their fingerprint in our system and can access
.
Security
One of the things to look for in daycare is whether the play areas have been suitably child proofed.
Ask if they have a first aid box and a fire extinguisher. 
Check how do the daycare ensures nobody is able to enter the daycare without being observed.
Safety of your child and his security is of utmost importance so verify this aspect with due diligence. Security is an essential element in deciding the best daycare for your little one.
Austin Kids Retreat requires fingerprint verification for pickup and checkup in a separate front lobby. Our outdoor area is completely fenced in and as a credited childcare facility we are up to code with all safety and security standards. Come visit and tour our drop-in daycare facility to see for yourself! 
.
Food? Is it Provided? Nut-free?
One of the important questions to ask at a childcare interview is  – Whether you will be required to give food or food will be provided.
At Austin Kids Retreat we respect the dangers of nut allergies and are therefore a nut-free facility. Students are welcome to bring packed meals and snacks, but note that AKR also offers optional breakfast, lunch, and dinner options.
Also, verify if the daycare has a clean supply of drinking water. AKR has a water fountain accessible in the hallway for students.
.
Potty Training Procedures.
How will the preschool support your child's potty-training journey? Fun Fact: Ketti Prout, owner of Austin Kid's Retreat, has potty trained more than 500 kids in her 20 years of childcare experience. 
Believe it or not there are many daycare and preschool programs that do not take children under the age of 3 and until they're potty-trained or they won't assist with wiping. At Austin Kids Retreat, we take kids as young as 8 weeks old so we have your diaper changes (and diaper transitioning) kids covered! 
.
Is there a separate area for infants and toddlers?
Infants and toddlers have different needs. Also, small parts of toys for toddlers could be choking hazards for babies. So ideally their areas should be different. This is one question to ask a potential daycare provider when choosing a daycare for your infant.
AKR has a separate room for our infant visitors (8 weeks to 18 months). In this room, we have cribs that are set up with safe sleeping standards in mind, age-appropriate and safe toys. 
Our big kid room follows a more Montessori mindset of including multiple age groups in one area. When we have larger groups we find it useful to group the children in mini-groups with general ages and move them around in different centers. 
For naps, we have nap mats on-site for our younger toddlers to sleep on in the movie room during the designated nap time. During this time we host outdoor activities if the weather permits or quiet play. 
.
What is the daily routine of children? What books or toys they have? Is there an outside play area?
Another question to ask the daycare is – What is the daily routine that your kid will be following? Children thrive on routine.
Choose a daycare that offers a structured schedule with time allocated for physical activity, meals, group activities, individual play, meals 
Enquire about what books, toys or puzzles does the childcare center has. 
We welcome tours and follow this general schedule per age group. Themes often change throughout the year! 
.
Discipline. How do they handle outbursts?
How does your child's childcare center plan to handle outbursts and "bad behavior"? 
It's our philosophy that it is important to realize that children are not bad. There are no BAD kids! "Bad" kids are simply kids having a hard moment and trying to navigate the big emotions that are being felt in that moment. The most important tools we use for "discipline" is redirecting and teaching new and correct behaviors. Sometimes something similar to a time-in is helpful to a child – this is just a moment where we redirect the behavior to a self-regulated individual activity like sitting quietly and reading or doing a puzzle. 
Ex. a child who bites isn't thinking they want to hurt a friend – they're simply struggling to communicate a big emotion! We work past this by keeping an eye out for the outburst before it happens, engaging in stimulating and busying activities, and teaching healthy ways to redirect or communicate their feelings if possible.  
.
Reviews from Others
One of the best ways to discover if a childcare center is right for you is to tap into the thoughts of other parents who used the same facility for their own child. Yelp, Google, Nextdoor and local parent groups on Facebook are great resources to hear straight from other parents what their experience was.
Austin Kids Retreat is proud to have a strong Google standing with nothing except 5-star reviews! Check out the reviews for yourself
.
.
.
.
Here's an easy checklist to go use in your search!