As a childcare center, cleanliness is of the utmost importance to us! In addition to implementing our own daily disinfectant steps, Austin Kids Retreat is Dis-in-fx Certified and have regular microbial swabs done at our facility. In this environment of Coronavirus and just flu season in general, we are committed to doing anything and everything to keep your kiddos germ-free! We would love to pass on our tips so you too can keep your home and children healthy. 
1. Wash Your Hands 
Hand sanitizer is a good back-up choice but washing your hands is proven to be the best way to kill and prevent germs from spreading. Yet, many kids skip over the hand-washing or don't know how to wash hands properly.
Parent Tip: Washing between the fingers and scrubbing up above the arm for 20 seconds with soap and warm water is the best way. 
Children Tip: Have your child sing a song while washing their hands to make sure they wash for the appropriate amount of time! "Row-Row-Your Boat" is a classic and perfect 20-second water themed song. The "Happy Birthday" song also can be sung and is a favorite among kids!
Activity to teach the importance of hand-washing and how germs spread: 
Pour a small amount of oil and cinnamon on your child's hands!

Let them play for a bit 😉 

Then ask your child to wipe their hand on a paper towel – what do they see? Is their hand clean? How can we clean the cinnamon off?

Once your child has washed their hand with soap and water and dried them – ask again, "What do you see?" Is there any remnants of cinnamon between the fingers? Under the nails? Any cinnamon left on their hands? 

Then explain this is how germs work and why it's so important to wash our hands

really

well! 
This is a great time to explore more germ teaching activities!
Do the bread experiment, look up pictures of germs, and teach through the spray bottle experiment how sneezing and coughing can be spread (and prevented by coughing/sneezing into the crook of your arm)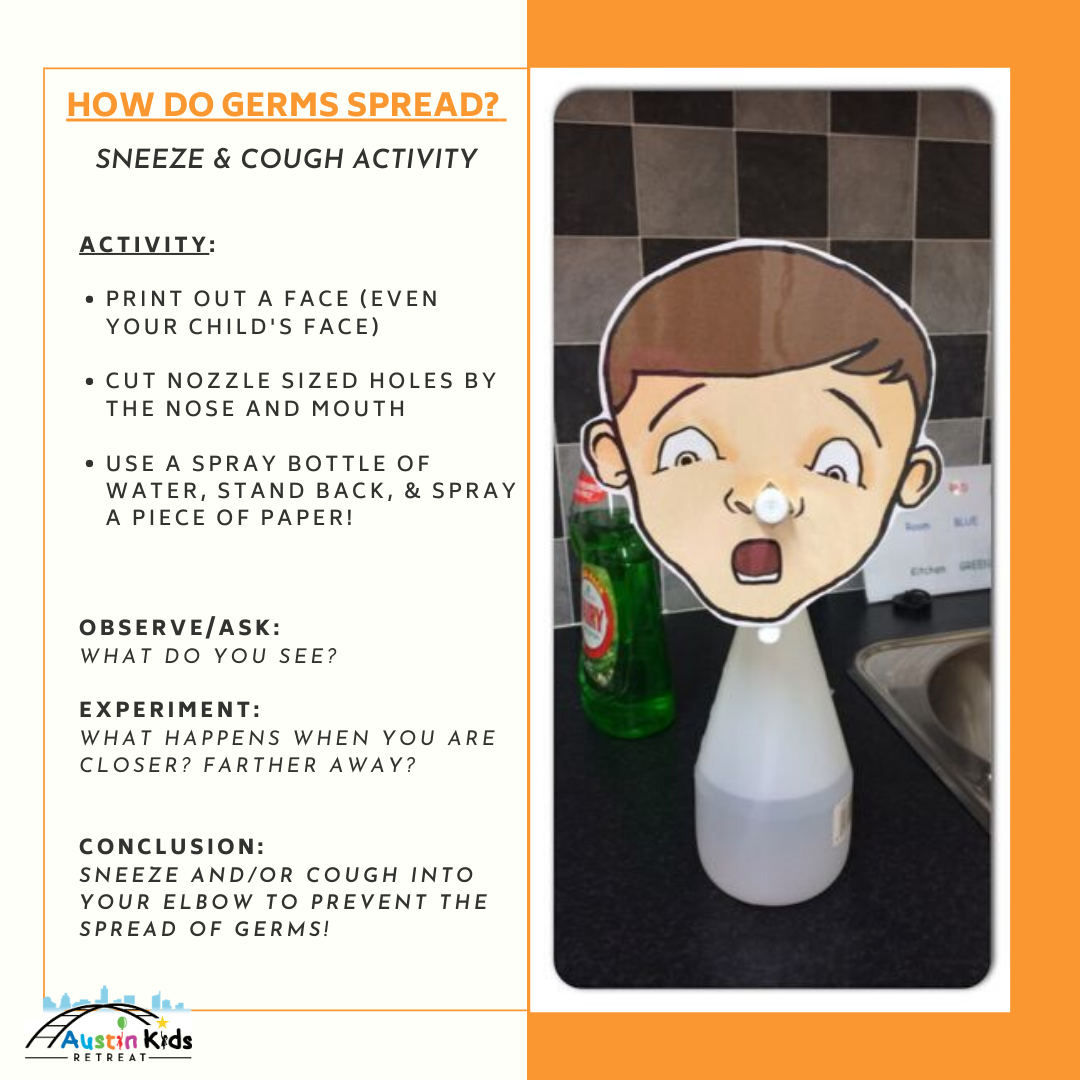 .
.
.
2. Disinfect Toys
As a drop-in daycare, we are more sensitive than most about toy cleanliness. Toys and the bins they are in need to be disinfected often. However, cleaning toys can seem like a hard or cumbersome task. But it doesn't have to be! Check out these tips for sanitizing your child's toys:
Disinfectant spray on toys and the storage boxes they're in. Lysol is a known powerful spray or make your own spray with peroxide! There are lots of natural options to look into DIYing on your own but as a childcare center we take cleanliness very seriously and recommend you look through this list provided by the EPA of disinfectants that have tested powerful enough to kill the Coronavirus:

EPA Disinfectants List
Throw those toys in the dishwasher! A great little trick is to put all metal and batter-free toys in the dishwasher. Add a cup of vinegar and wash on high heat! 
How do you clean stuffed animals? There are a variety of ways to go about cleaning stuffed animals outlined

here

, depending on the type (with batteries, spot clean, etc). Don't forget to use that Texas sun to your advantage! Direct UV light is a natural disinfectant. 
We love to see kids learning through play! So teach cleanliness and make it a game-time for a toy bath! I've yet to see a child not be thrilled when bubbles are involved. Bubbly soapy water, a toothbrush or sponge, and a warm day make this the perfect outdoor activity and a great way to clean your toys – it's also a fantastic sensory activity. (Hint: for cold weather, this can be a bathtub activity instead)
Remember – there is a difference between CLEANING and SANITIZING. With the recent scare of the Coronavirus (COVID-19)  and cold and flu season, we want to be sure that we are not just cleaning, but sanitizing and disinfecting the surface. 
Here's a break down of the difference as noted by this blog post (which highlights more natural DIY solutions for sanitizing):
Cleaning – removes dirt, debris, grease, and germs. Cleaning can physically remove germs from a surface, but doesn't kill them.
Sanitize

– reduces the number of germs on a surface to an acceptable level, this reduces the risk of spreading infections.

Disinfect

– kills the germs on surfaces so there is no risk of spreading the infection.

A clean surface might not be sanitized, and a sanitized surface might not be clean!
.
.
.
3. Make Healthy Choices – Load Up on Vitamin C and Elderberry!
A natural way to boost your and your children's immune system is to feed it goodness! When we say vitamin C instantly oranges come to mind. But did you know there are other foods that actually have more vitamin C than oranges? 
Be wary of vitamin C supplements – they are ineffective and often full of sugar. Vitamin C is most beneficial when it comes in natural form to the body because the food has other minerals and other phytonutrients. Interestingly enough – sugar and carbohydrates have been shown to inhibit Vitamin C absorption.  For more facts on vitamin c check out this article: 6 Facts of Vitamin C
If you have a picky eater who is resistant to some of the foods outlined above – a smoothie is a great option! Pack it with as many vitamin C boosting ingredients as you can. Or check out our tips for helping picky eaters. 
Elderberry is also a great way to naturally boost your child's immune system. Not only is it high in vitamin C, but it's also high in antioxidants, fiber, and full of more cold and flu season fighting benefits. Put it in smoothies, eat a spoonful of it, or partake in the gummy vitamin version of elderberry. 
While elderberry has been associated with many promising health benefits, most of the research has only been conducted in a lab setting and not tested extensively in humans. […]

Reasonable evidence supports its use to reduce the length and severity of flu symptoms. Also, it may support heart health, improve antioxidant status and have a variety of anti-cancer, anti-diabetes and anti-inflammatory effects.

.

.

.
4.
Don't Forget the Bed (& Towels!)
It's said we spend ⅓ of our lives in bed. And when your sick – surely that time increases! Wash sheets, towels, and bedding in hydrogen peroxide, vinegar, or color-safe bleach to thoroughly clean and disinfect. 
For pillows, you can attempt washing in the washer – or simply throw them in the dryer on medium-high heat for at least 45 minutes. 
For regular healthy bedding habits we suggest:
Use a top sheet to keep the comforter clean longer. 

*When you are sick – put an extra sheet underneath you or your child and sick bodies tend to sweat more. 

Use a mattress protector 

Regularly sanitize your mattress by vaccuuming it! Or creating a DIY mattress cleaner/deodorizer like ones recommended

here

using hydrogen peroxide, baking soda, dawn, and/or vinegar. There are various recipes depending on type of mattress and your preference. 
.
.
.
5. Wipe – Clean – Sanitize 
Doorknobs and light switches may seem obvious, but what about the not so obvious? Be sure to wipe down (using a product on the EPA recommended list) computer keyboards, phones, and remote controls.
Implement the

disinfecting

practices highlighted above in order to not

just

clean surfaces but disinfect as well! 
Vacuum the home regularly to remove dust that can harbor bacteria. 
Create a shoe station by your front door! Avoid bringing in and spreading germs via your footwear by having an easy spot to put shoes away, and optional house shoes to wear. 
.
.
.
.
.
.
5. Don't Stress! 
Hard not to do during the midst of this virus scare but truly – stress lowers our bodies' ability to fight back against viruses germs. Do your best to find humor where you can! 
And take heart that COVID-19, seems to be, oddly enough, skipping over children. NBC News delves into the particulars, but children seem to have milder cases of the virus and account for an extremely low percentage of those who have caught the virus. Therefore, you can feel better knowing you have implemented the above safety precautions to avoid really any type of sickness, not just Coronavirus. 
As a gentle reminder, one of the more powerful ways to stop the spread of sickness is to stay put when sick. Please keep your little ones safe at home when they present symptoms of feeling unwell, vomiting, or fever until they are symptom-free (without the aid of medicine) for 24 hours. Let's keep our Austin community healthy!