One of the best parts of having a childcare center (other than crafting and DIYing and pretty much playing all day!) is hearing from the kids – who visit our Drop-In Center or attend our Pre-School – about all of the fun and unique Christmas Traditions they have!
As a fun way to share all the wonderful ideas and traditions we've heard, we've put together a list of traditions for you to try out with your family!
These traditions include Christmas Eve meals, Christmas Morning Breakfast, and Christmas and Christmas Eve activities to try as a family! As a bonus for our Austin readers – we've included some local Austin Christmas Events to check-out on Christmas Eve and Christmas Day.
Christmas Eve Dinner Traditions
Keep it light and/or easy!
Take-Out (Pizza, Thai, or a favorite local spot )
One Dish Casseroles (less dishes!)
Tamales (you know you're a Texan when…)
Appetizer Dinner – Bruschetta anyone?
Christmas Morning Breakfast Traditions
Crock Pot French Toast (here's one recipe but there are many variations including apple cinnamon bake, berry french toast, egg nog, etc!)
Mimosa Bar – This one's for all the mama's out there who stayed up until the crack of dawn wrapping presents!
Traditions for Christmas Eve and/or Christmas Eve
Want to learn more about the details of the above activities? Check out the more detailed list below!
Open a Christmas Eve Box! Suggestions vary from variations of these combos:

Christmas PJs, hot cocoa, a new Christmas movie, a new Christmas book, popcorn, and a new Christmas game
Christmas Eve Thank You Notes to your Elf on the Shelf (skipped out on this trendy holiday tradition this year? It can be quite a bit of work but we've found more positive reasons to incorporate the Elf in your traditions!)
Gingerbread House Competition – (or just some friendly building)
Christmas Eve Cookies – Make Santa Christmas Cookies from Scratch + Reindeer Food (here's a glitter-free option)!
DIY Cookie Plate – Make Santa's Cookie Plate with this DIY craft. 
Holiday Song Karaoke – Let's admit it – you know all the words and don't need a monitor (if you do – YouTube is your friend). Try using a cord-free hand-held microphone like this one
Christmas Charades – (here's some free printable Christmas charade ideas)
Christmas Board Games – Christmas Monopoly– it's a thing!
Holiday Music Dance Party – Dance the sillies out or try a fun game of Freeze Dance (great idea for Christmas Eve to tire the kids out!)
Ugly Christmas Sweater Day – Instead of your Christmas best, wear your worst! Encourage the whole family to rock their best ugly sweater at the family Christmas gathering!
Christmas Tree Camp Out – watch a movie in a magical Christmas Fort!
Christmas Photos with Santa! – Many places have a Santa in place through Dec 24th! Dress up in your Christmas best or keep it casual with some Christmas PJ's and a visit to Santa.
Share Your Gratitude – Write Santa, Parents, and loved ones a Thank You Note (or draw a Thank You photo)
Present Gratitude – Unwrap presents one person at a time. Encourage the opener to say a few nice things about the gift in order to express gratitude. This is especially great for kids and slowing down the present opening frenzy!
Christmas Pickle – Do you know about the pickle ornament tradition? An ornament shaped liked a pickle is hidden in the tree, and the person who finds it gets a special prize!
Christmas Movie Marathon – A classic family tradition! And streaming services have made it incredibly easy to marathon away the day
New Year's Predictions Jar – After Christmas dinner, have everyone write down what they predict will happen throughout the following year, and put them in a jar. Next Christmas, you can look through the predictions and see if they came true!
Christmas Eve…at an Amusement Park! While Disneyland is packed (yet a truly magical option if you can swing it!), other parks empty out. No lines and lots of rides!
Christmas S'Mores – Try Using Andes Mints for a more Peppermint Tasting S'More! Or roast marshmallows for your Christmas morning Cocoa
Give Back –Visit a nursing home with a Christmas Book and Christmas Cookies! Ask to be read to (or to read to) the elderly.
Christmas Minute to Win-It Games
Ornament  Balance – This is a game where you put a yardstick on a paper towel roll and add ornaments to the yardstick without any falling, all in one minute.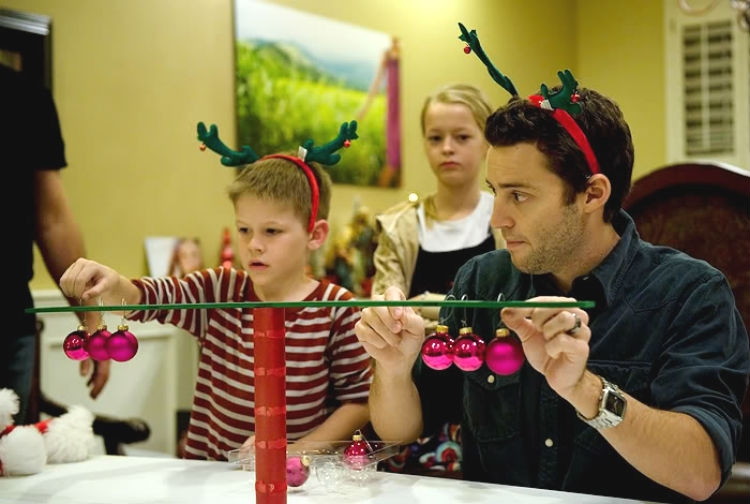 Snowman Race – toilet paper and some simple construction paper decor
Christmas Tree Wrap – similar to the snowman race, use green streamer and bows to make your own Christmas Tree
Christmas Present Wrap – any leftover wrapping paper, bows, or ribbons? Give it a second life! Who can wrap up the best "present" I.e., person!
Shave Santa – It's a race to "shave Santa's beard". Use shaving cream or make it sweet with whipped cream beards + a popsicle stick as the "razor"
Marshmallow Chopsticks– Work on gross motor skills and counting at the same time with this fun game
Austin Christmas Traditions on Christmas Eve and Christmas Day 
Science Mill, Pecan Street Cafe, and the Johnson City Lights never disappoint!
Mozart's Joyous Lightshow (closed Christmas Day but open Christmas Eve and through the first week of January)
Last-minute gifts at the Armadillo Christmas Bazaar 2019 – runs up to Dec 24th
Check out a show like the "Cirque Musica Presents: Holiday Wishes"
Lakeside Walk of Lights (Dec 24th or 25th)
Mighty Thomas Carnival in Round Rock (Dec 24th or 25th)

Bring your family to the FREE Christmas Towne at the Old Settlers Association and the Dell Diamond parking lot
A Christmas Carol – put on by kids at ZACH THEATRE on Christmas Day
Here's a bonus for our truly local, Steiner Ranch people (in case you didn't know, Austin Kid's Retreat is located in the Four Points area near Steiner Ranch. We have the honor of picking up many of the kids with the Austin Kid's Retreat bus, from the local elementary schools in Steiner Ranch to bring to our After-School Drop-In Program)
Annual Christmas Eve Pancake Breakfast at Cups & Cones | Dec 24th from 8am-12pm